Daddy's girl

always acting crazy
with her Daddy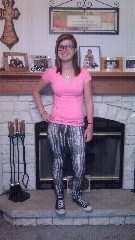 Shelby
I can't believe Shelby started high school this year... Where did the time go ? It seems like just yesterday she was a cute little 5 year old girl going into kindergarten and now she's a beautiful young lady who is so confident in who she is and she wants for her life and we are so proud of her . She's not ashamed to show others who she is & share her love of God with people. I love that every since Shelby has started school that Mike has taken her on the first day. Those are the memories that she will cherish forever. Mike actually walked her IN to school this year and she hugged him goodbye ... IN PUBLIC .. that's huge for a teenager but like I said before Shelby doesn't follow what other kids her age do.
This is how she walked
out the door ...
seriously... no more pictures !!
Shelby came home from school & told me that she had a great day. She is finding out who her true friends are & I'm excited to see how she enjoys high school. She loves art & drawing. She very good at it and I love when she will actually let me hang one of her pieces in the house. Shelby also LOVES to sing. She's in choir again this year although she told me that she doesn't like her new choir teacher. She wants to continue singing.